FRONTguide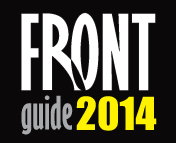 [ Click Here ] to
download the 2.5 MB PDF

Issues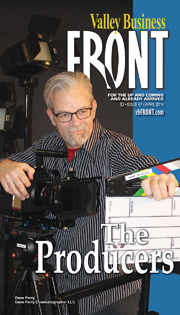 Click on the picture to view the April 2014 Issue

or [ Click Here ] to
download the 10.3 MB PDF


| | | |
| --- | --- | --- |
| | | |
| March 2014 | | February 2014 |
| | | |
| January 2014 | | December 2013 |
| | | |
| November 2013 | | October 2013 |
Your April 2014 Issue
With every Tom, Dick, and Harriet shooting and posting videos with their cell phones and such on YouTube and embedded in Facebook, on top of major motion pictures being recorded on low cost equipment that anybody can get and operate, you'd think there's nothing that special about the business. Think again. Actually, now that anybody can "produce a film" (a phrase using an old term, but still used today) the demand for professionalism is even stronger. In fact, the professionals are stepping up their game even more, as the threat of "citizen videographers" encroaches on their once insular and reserved territory. Video is big business, and that includes the amateur sector, which is the fastest growing part. Fortunately, we don't have to rely on Uncle Jack or Cousin Timmy for serious projects in our region. Quality production with award-winning results is just around the corner. We show you six of them today. Western Virginia has proven it competes with the best.
Remember, we cover all FRONTs in every issue!
The FRONTcover story is an additional exploration
along with our ongoing coverage.
_______________________________________
Behind the Business Scene — with Katie Love

A Profile Pulled from the Pages of
Valley Business FRONT magazine

October 25, 2013
October 11, 2013
_______________________________________

This Just In
February 20, 2014
January 28, 2014
January 23, 2014

FRONT in the news