Issues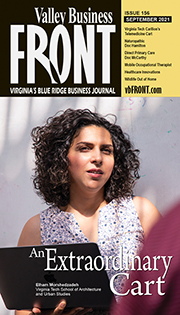 Click on the picture to view the September 2021 Issue

or [ Click Here ]to
download the 8.6 MB PDF


| | | |
| --- | --- | --- |
| | | |
| August 2021 | | July 2021 |
| | | |
| June 2021 | | May 2021 |
| | | |
| April 2021 | | March 2021 |
Welcome to Valley Business FRONT
The exciting and progressive magazine for the up and coming and already arrived.
Virginia's Blue Ridge Business Journal.
The preferred business and news source for the Roanoke Valley, New River Valley, Central, Southside, Southwest, Shenandoah and greater western region of Virginia.
The FRONT presents stories about people you know—and people you'd like to know.
Look for your monthly magazine here each month, become a FRONTpatron and get your printed issue delivered, or pick up a copy at many area businesses (see distribution).
The FRONT is brought to you by the businesses and organizations you see on the pages each month (print and online). As a FRONTreader, you're the most involved and civic minded in our region—so we ask that you continue that commitment by visiting FRONT advertisers and considering their products and services first.
What We Offer You
Valley Business FRONT has become everyone's preferred source for news in the Roanoke Valley, the New River Valley, Lynchburg, and beyond. In addition to telling stories of people you know—and people you'd like to know each month in the much-anticipated progressive magazine with the dramatic covers and colorful easy format, the FRONTLines section gives you the latest blurbs on career and company announcements.
But being progressive, innovative, and… well… more exciting than the old conventional stuffy business tabloid doesn't mean you miss out on credentials and experience. The FRONT is brought to you by an average of over 400 years of experience each month. That's directly-related professional experience in the industry from our large and diverse pool of correspondents. For such a relatively new organization, the stacking up of awards and recognition is quite impressive:
Business Advocate of the Year
Roanoke Regional Chamber of Commerce
Tom Field, Publisher
Dan Smith, Editor
(nominee; multiple years)
Small Business of the Year
Roanoke Regional Chamber of Commerce
Valley Business FRONT
(nominee; 2015)
Regional Leadership Award
Roanoke Blacksburg Technology Council
Tom Field
(nominee; 2015)
Virginia Communication Hall of Fame
Dan Smith, Editor
(winner; 2010)
Cool Cities Coalition
Dan Smith
(winner; 2010)
Perry F. Kendig Award
Outstanding Literary Artist
Tom Field
Dan Smith
(winner; 2009)
Advertising Person of the Year
Roanoke Advertising Federation / AAF Roanoke
Tom Field
(nominee; 2010, 2016)
Various Journalism, Photography, Design
awards over the 75-years of combined experience between Publisher and Editor

Did You Know...

Valley Business FRONT is the region's only locally owned and operated business publication. An engaged publication for engaged readers, covering our largest institutions to our smallest entrepreneurs, the FRONT has contributed $372,132 to our local charitable organizations in direct advertising placements and continues to be a strong advocate and sponsor of many worthy events for the communities in our service and coverage area.