Issues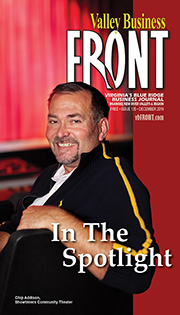 Click on the picture to view the December 2019 Issue

or [ Click Here ]to
download the 8.8 MB PDF


| | | |
| --- | --- | --- |
| | | |
| Noivember 2019 | | October 2019 |
| | | |
| September 2019 | | August 2019 |
| | | |
| July 2019 | | June 2019 |
Get the FRONT by Mail
Now for only $19.99, you'll get 12 issues mailed directly to your preferred location. That's 44% OFF the $3 Cover Price!
Here are 4 simple ways to get the FRONT by mail:
Download, [click here] print and complete the subscription form in this issue and mail it with your payment to: FRONT, P.O. Box 1041, Salem, VA 24153
Call (540) 389-9945, M-F/9-5 with your credit card and we will take your information by phone.
PayPal - click on the Pay Now button below.
Rack Locations
Free FRONT sample copies are available while supplies last at the following locations:
/ Downtown Roanoke, Salem and the
• VA Tech Blacksburg locations



Tanglewood Mall

Towers Mall

Blacksburg Library
Christiansburg Library
Pulaski Library
Radford Library

Roanoke County Library / 419 Electric Road at Cave Spring Corners

Roanoke County Library / Hollins Branch / Peters Creek Road

Salem City Library

Christiansburg Community Center

Most Coffee Shops and Clinic Waiting Rooms